Ahascragh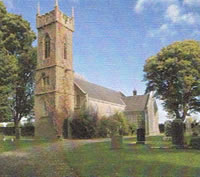 Located on the Ballinasloe – Mountbellew  road Ahascragh is in easy reach of Galway city. The parish's original church was erected in 1813 at a cost of £1500 of which £1000 was granted on loan from the board of first fruits. The nearby Glebe House (now privately owned) was built in 1804. The church itself is named in honour of St Catherine. The church was destroyed by fire on 20th July 1922, the only church of Ireland to be burned during the "troubles". The rector at the time Archdeacon George Townsend oversaw the rebuilding and restoration of the church which was rededicated in 1926.
The building is traditional cruciform shape while at the sanctuary steps the main aisle divides into 3 distinct paths leading to the sanctuary, and two transepts, each division is marked by a prominent
stone Arch.
Plaques around the interior recall details and continuity of worship within St Catherine's walls, a plaque in the North Transept lists memorials to the Mahon family which were destroyed by the fire in 1922. The North transept was dedicated to the memory of John Ross Mahon who died in 1887 the East window dedicated to Sir Ross Mahon of Castlegar… The reredos emphasises the continuity between 19th and 20th century churches being designed and built in 1885 and presented in 1926 by members of the Dillon family.
Sunday Service
2nd Sunday Morning Prayer
4th Sunday Holy Communion
(all services 12.00)
Parish reader Jimmy naughton