Ardrahan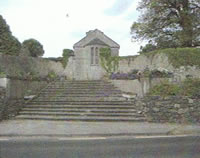 The present Church in Ardrahan was built in 1809 at a cost of £900. It is situated near a main crossroads north of Gort and West of Loughrea. It's elevated sight signals the presence of the Church of Ireland in South Galway. Nearby stands the stump of a Round Tower and the fragments of a medieval church both illustrating the likelihood of early Christian worship on this site. The Clock tower has become a landmark in Ardrahan, both the clock and belfry were erected by people of all denominations within the parish.
The Church was closed for a short few years but was reopened and has an active growing congregation with fortnightly services. Memorials adorn the church to remind us of the past congregation and it's lifestyle. The largest tablet remembers Lieutenant General Sir John Taylor KCB of Castle Taylor who is buried in the Churchyard.
The organ in the Church was presented by Bangor Parish in 1887 in honour of Queen Victoria's Golden Jubilee. The 3 light East Window featuring the ascension in Stained glass was made in Dublin in 1908 and was erected by the 5th Lord Clanmorris as a memorial. The south windows are dedicated to the memory of Burton Percy Bingham and Bentinck Yelverton Bingham and erected by their family members. The plaque from Kilcolgan in the grounds of Ardrahan Church states that the school house was erected by the friends and parishioners in memory of the lamented pastor the Rev. John Burke Vicar of Kilcolgan.
Sunday Service
1st Sunday Holy communion 10 am
3rd Sunday morning prayer 10.am