Ballinasloe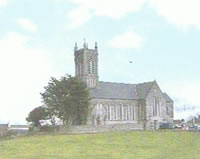 Built in 1818 and financed by a loan £962 from the board of first fruits, the original building was impressive, with a large tower added in 1842, however in 1899 the building was destroyed by fire, insurance was inadequate and it took great fundraising to repair and rebuild. The Dean of Clonfert the Very Revd. Philip Graydon Tibbs (Rector at the time) was responsible for guiding the parishioners in their efforts. A large plaque in the sanctuary remembers his efforts. St John's is a large, spacious and beautiful church, major renovations (including a new roof) took place during the early 1990′s; a service of re-dedication took place in 1992 with guest preacher being the Dean of Killaloe The Very Revd. E.C.T Perdue.
The Clock which is housed in the tower is the property of the townspeople of Ballinasloe and under an agreement made in 1901, the care and upkeep of the clock is the responsibility Galway County Council.
The south transept is home to a Ministry of Healing side chapel, which was dedicated in memory of Rev J Furlong who was rector from 1967 to 1976, he was instrumental in forming a branch of the Healer prayer union within the parish.
MINISTRY OF HEALING: An Ecumenical service of Prayer for Healing which takes place in St. John's on the 1st Wednesday of each month is open to the parish and the wider community.  This is a quiet and valued ministry is coordinated by Valerie Swanwick.
MOTHERS' UNION
St. John's Mothers' Union has a very active branch of the Mothers' Union, ages range from great-grannies to mothers of school age children and toddlers.  Mothers' Union supports various local organisations including Portiuncula Hospital (knitted baby bonnets for SCUB, and toilet bags for emergency admissions), Social Services (knitted blankets and provisions.)  East Galway & Midlands Cancer Support (baking and crafts). Our annual Christmas collection of non perishable goods, gifts and knitted blankets is arranged by the branch for the Women's Refuge in Athlone.
SUNDAY SCHOOL
Children aged from 2 1/2 and 10 attend Sunday School regularly and are encouraged to participate in Sunday Worship when appropriate. (All teachers are Safe Guarding Trust accredited) 
Sunday Services
1st & 3rd Sunday morning prayer 10.00 / Parish Reader
2nd & 4th Holy Communion 10.am / Rector
Parish Reader: Martin O'Duffy